MATCHA GUIDE. v2
WHAT IS MATCHA
HOW TO PREPARE MATCHA
QUALITY MATCHA CHEK
KNOW THE DIFFERENCE BETWEEN DEGREES
HEALTH BENEFITS
HOW IS IT PRODUCED
Everything you need to know about matcha. Don't worry – it's easy. The tea is so simple to prepare that you can easily incorporate it into your daily health routines. Exactly as you prefer it. 100 percent natural health for body and mind.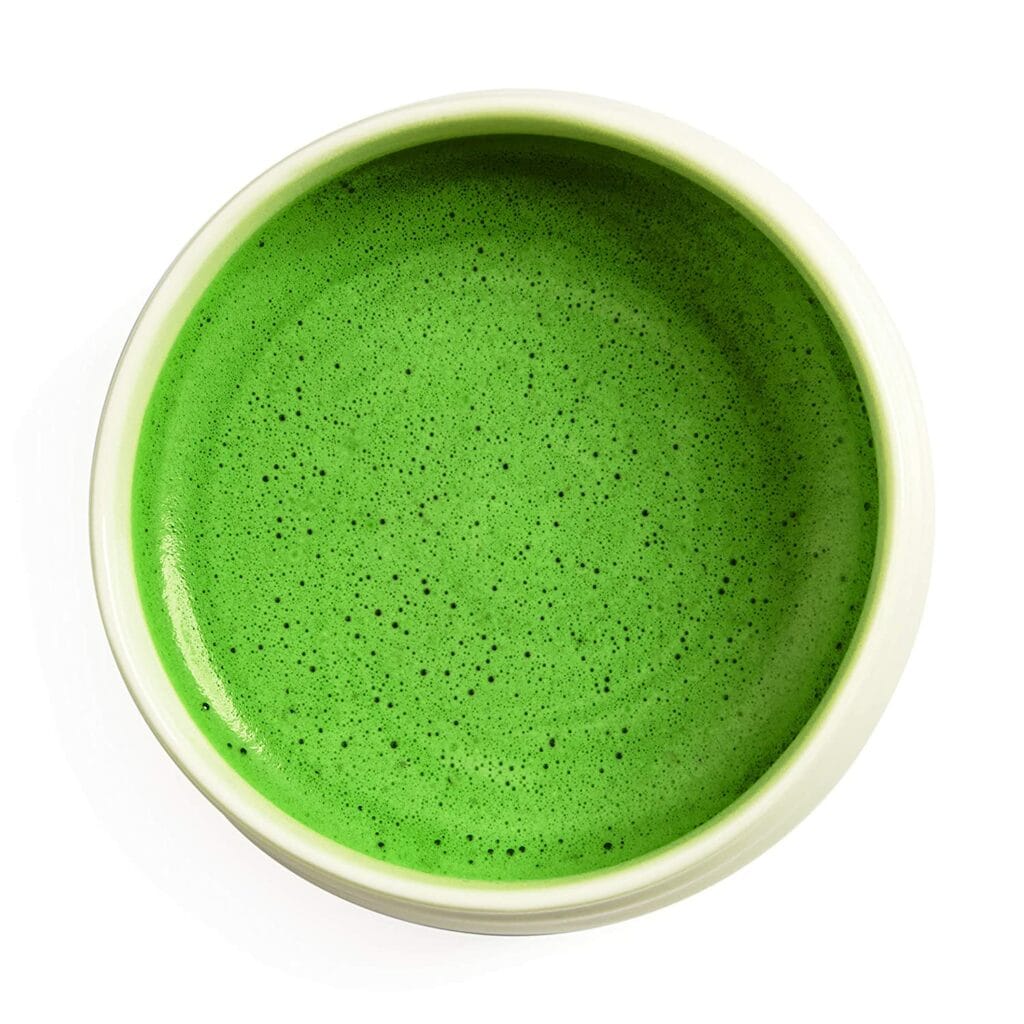 What is matcha
Matcha is green tea in powder form. What makes matcha so special is the origin, cultivation and production method. The powerful matcha comes from the same plant as green tea. The whole leaf is used in the production of matcha, and the tea has a more concentrated amount of antioxidants and beneficial plant compounds than regular tea and green tea. For hundreds of years, green tea has been the cornerstone of traditional Japanese tea ceremonies, and today it is extremely popular throughout most of the world for its many health benefits.
How to prepare matcha
The ideal water temperature for brewing matcha is about 70-80 degrees Celsius.
You'll get that coveted umami flavour most easily if you brew matcha at this temperature.
Put 2 bamboo spoons or ½ tsp. matcha in a bowl and add about 100 ml of hot water (70-80 degrees). Beat vigorously in an M-shaped (not circular) motion for about 20 seconds. This gives a beautiful jade green and creamy foam. You can add more water if you prefer your matcha less strong or less water to get an "espresso" matcha.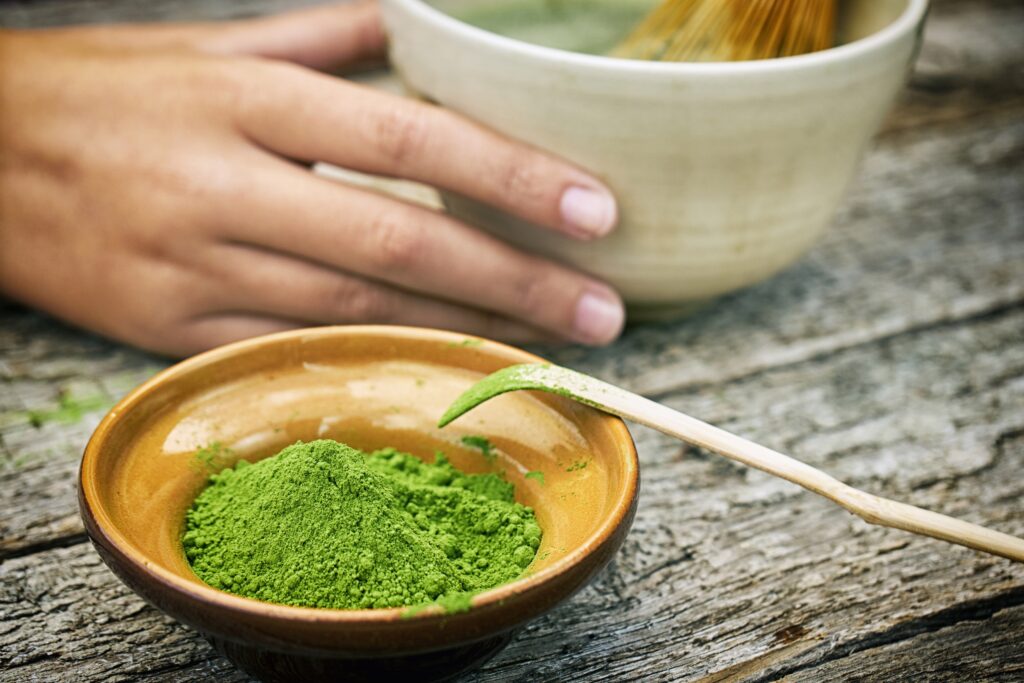 You can also blend your matcha with a milk frother. Put 2 bamboo spoons or ½ tsp. matcha in a glass or cup, and pour in about 100 ml of hot water (70-80 degrees). Mix well. You can add less water if you prefer your matcha strong – like an espresso matcha. You can also mix your matcha with milk or juice to taste.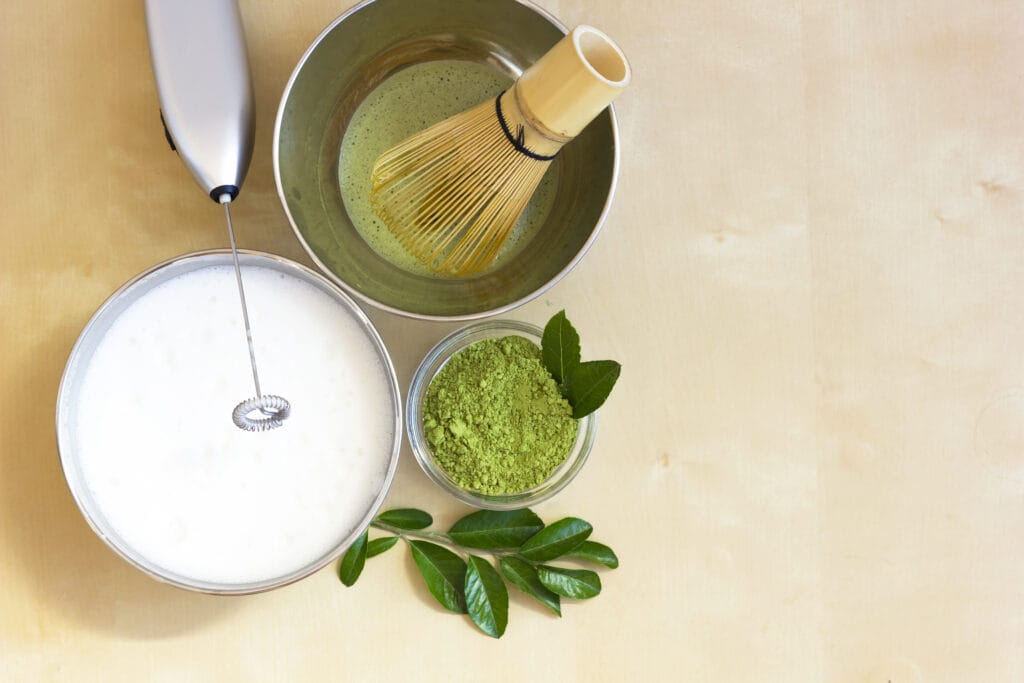 If you want your matcha fast, use a shaker or put the matcha in a bottle. Just add matcha to the water. Shake and you have matcha on the go. Warning: never use hot water if you choose this method, as hot water can cause the bottle to explode. The cold version is refreshingly delicious and a must try for any matcha lover.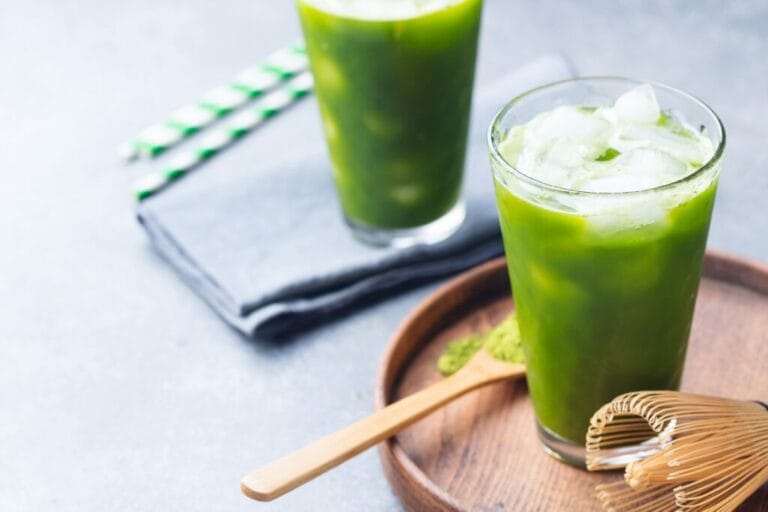 Understanding the matcha degrees
All qualities are essentially the same – it's matcha.
The three main qualities are Ceremonial, Premium and Culinary.
See how to choose and use the different matcha qualities.
Ceremonial Grade is matcha of the highest quality from the youngest and finest leaves from the first harvest of spring, stone ground into a fine powder. The tea is used in traditional tea ceremonies and has a rich and sweet umami flavour. It has a smooth texture and a creamy foam and is characterised by its intense jade green colour.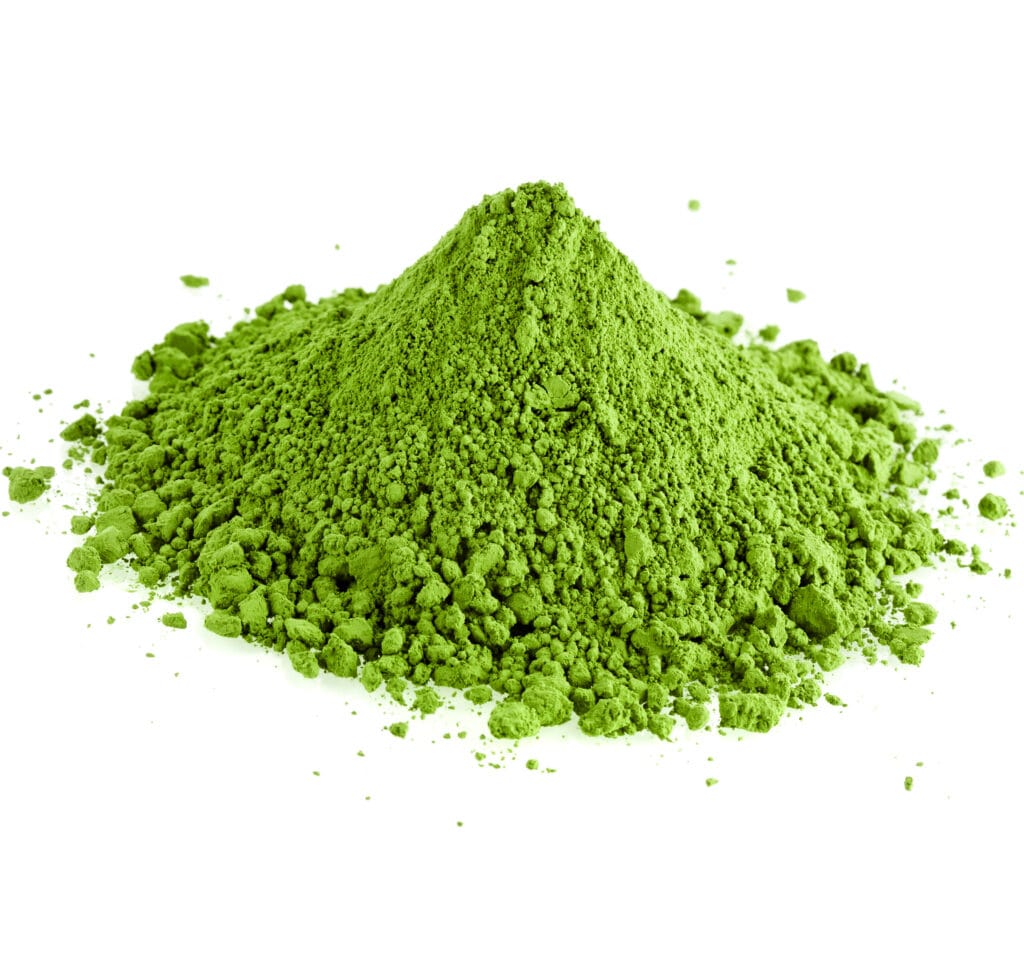 Premium Grade is first and second harvest matcha with a well-balanced and rich, bittersweet flavour and a creamy texture. The tea still has a nice green colour. Its rich flavour means it's ideal for drinking on its own, but it can also be used in caffe lattes, smoothies and lemonade. Mix it into a delicious cold iced latte or even a cocktail.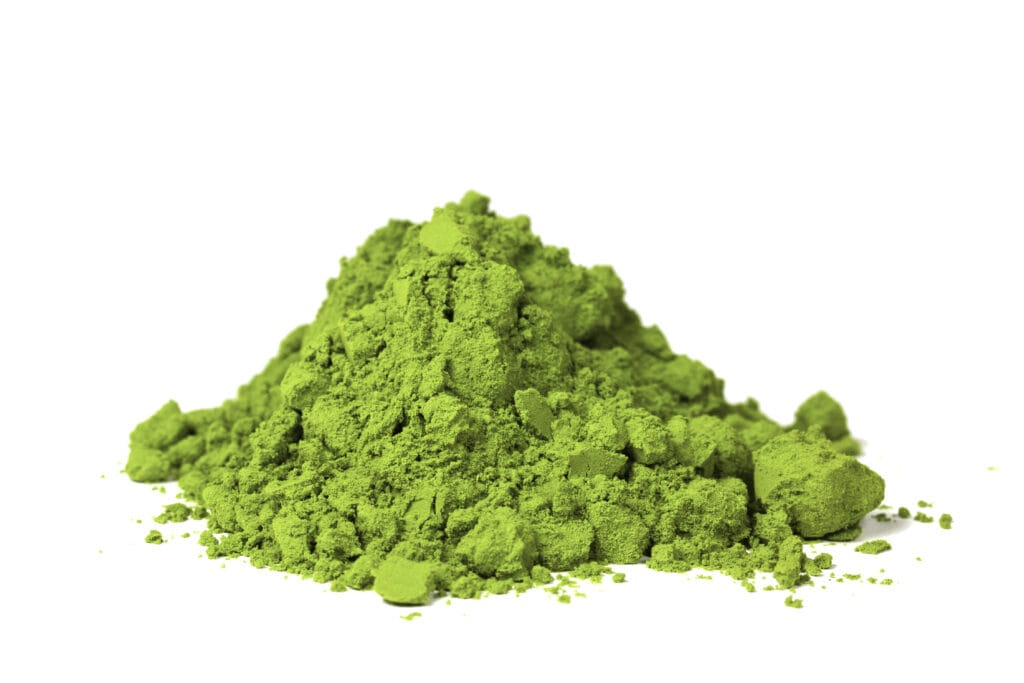 Culinary quality is matcha from the second and third harvests with a strong taste of green tea and a persistent pungency. The tea has a duller green colour and the taste is stronger and more bitter than higher quality matcha. That makes this the perfect matcha quality for cooking, baking and flavouring sweet desserts and ice cream.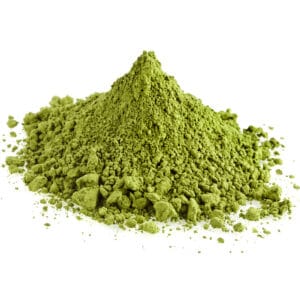 Matcha troubleshooting
Lead-contaminated matcha: You risk your matcha being contaminated with lead if you buy untested or cheap Chinese-grown matcha blends that aren't the right quality. 32% of Chinese blends exceed the lead limit, so you need to be careful where you buy your matcha. Non-certified and untested matcha: Never buy non-certified matcha tea as it can do more harm than good. Avoid most Chinese mixtures. Japan has much stricter quality controls than the EU and the US. So with matcha from Japan, you can feel reasonably confident that it's tested for most pesticide problems.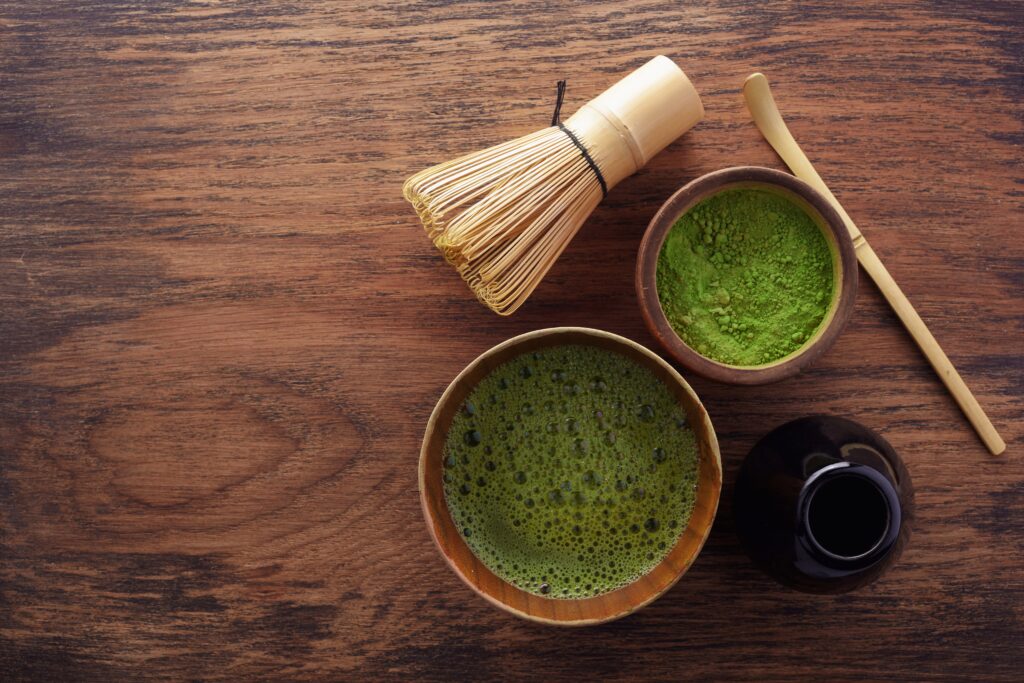 Why does my matcha clump?
Matcha is very sensitive to moisture, condensation and heat. Matcha powder has a slight electrostatic energy, which causes it to collect and form clumps.
When you leave your matcha tea for a while, some matcha powder will always sink to the bottom of the cup, no matter how vigorously you whip it.
This happens for all matcha powders – even for the highest quality. The best advice is to say so. It will dissolve the lumps. You should also store your matcha powder cold after opening and always in an airtight container.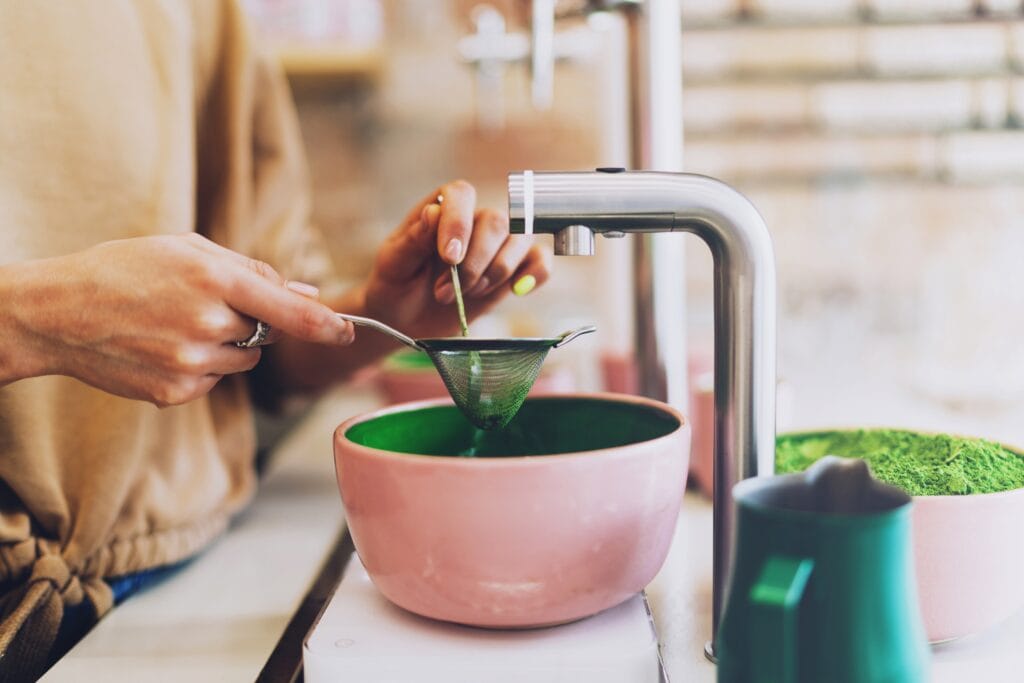 Why does my matcha taste bitter? Low-quality matcha has a more bitter taste. But boiling water makes all matcha bitter. Make sure you use water at the right temperature when brewing matcha. Serve the matcha at a lower temperature than you normally would with tea.
Boiling water makes the chlorophyll-rich matcha bitter, as the chlorophyll becomes more bitter with each increasing degree of hot water. Use about 75-100 ml of hot water at 70-80 degrees and you will experience the sweet umami taste. But it all starts with a good quality matcha. For example, ceremonial matcha.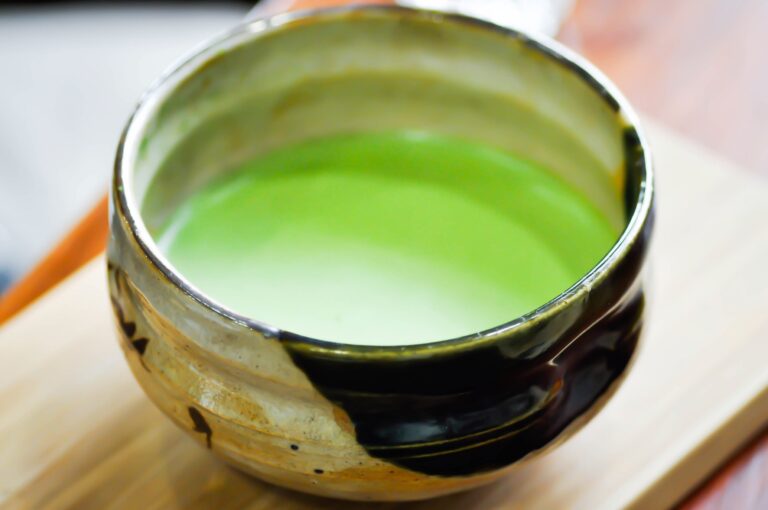 Matcha quality chek
To determine the quality of matcha, we assess colour, texture, taste and origin. Of course, the matcha must be certified organic. This is your guarantee for an exquisite taste and a high quality product! The best matcha quality is ceremonial and produced in Uji in the Kyoto region of Japan.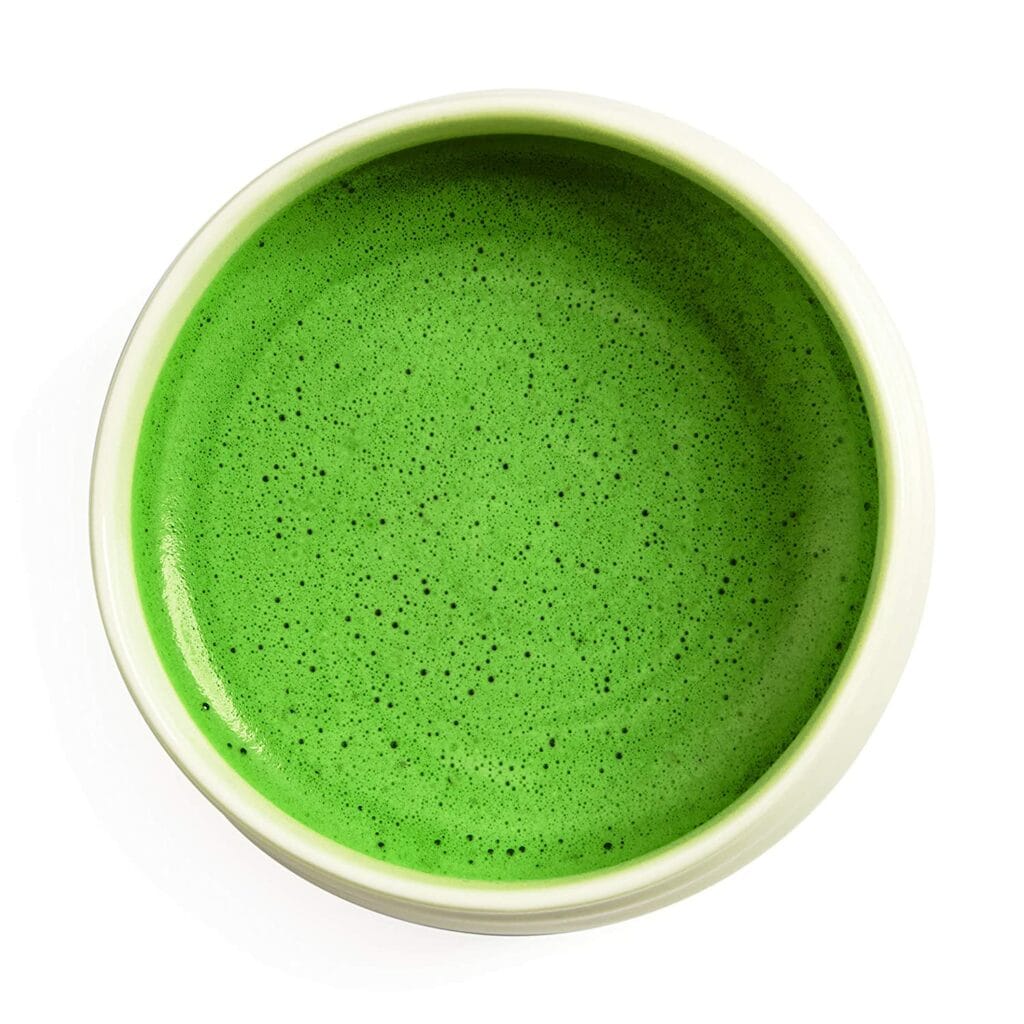 Higher grades of matcha such as Ecomind Ceremonial should have a deep, electric, jade green colour as opposed to a light, army green or yellow-grey colour
Fine and high-quality matcha should have an ultra-fine texture similar to talcum powder with an average particle size of about 8 micrometres.
Brewed correctly, ceremonial matcha has neither a bitter nor pungent taste, but a rich, smooth, sweet and refreshing vegetal flavour.
Quality = Very High
Colour = Intense Jade Green
Good for = Tea
Quality = High
Colour = Green
Good for = Latte and Smoothie
Quality = Good
Colour = Army green
Good for = Dessert, Ice cream and cakes
How to make
ecomind matcha
FROM THE LAND OF TEA, KYOTO JAPAN
All matchas from ecomind are sourced in Uji, Kyoto, Japan. It is one of the oldest Japanese tea producing regions and the place of origin of this coveted matcha tea. Uji in the Kyoto region is famous for its fertile soil and clean water and matcha green tea of the very highest quality.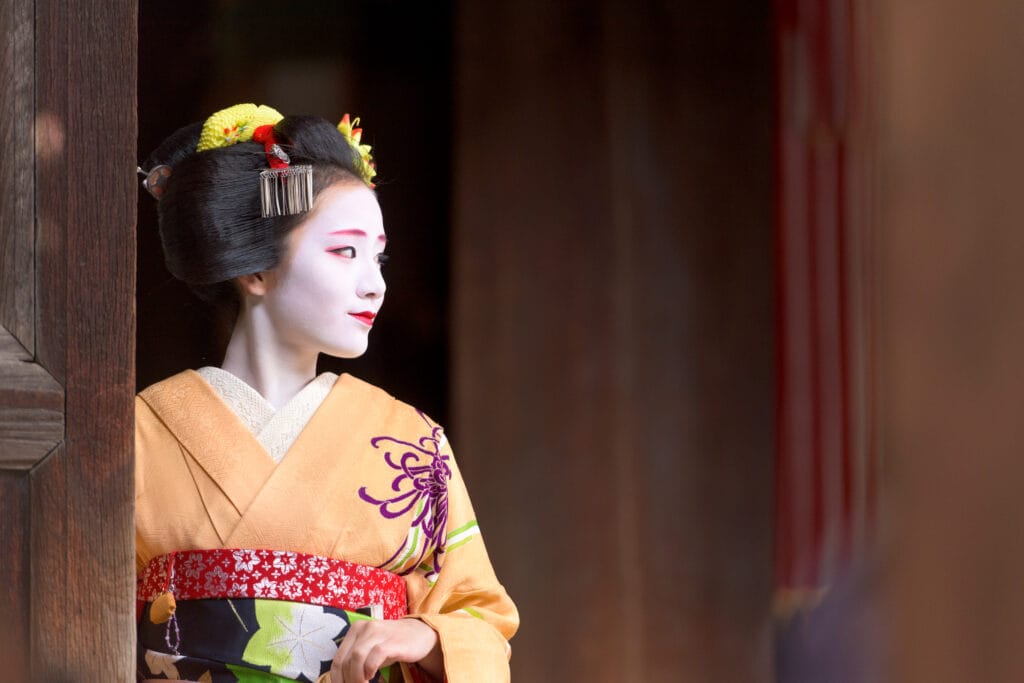 YOUNG LEAVES, 1. HARVEST SHADE GROWN
Ecomind matcha ceremonial is made from the youngest, finest leaves, which are plucked from carefully cultivated tea plants. We only use tea leaves from the first harvest of the year, which grow in the shade for 20-30 days. This gives a higher content of chlorophyll and L-Theanine and a more intense green colour.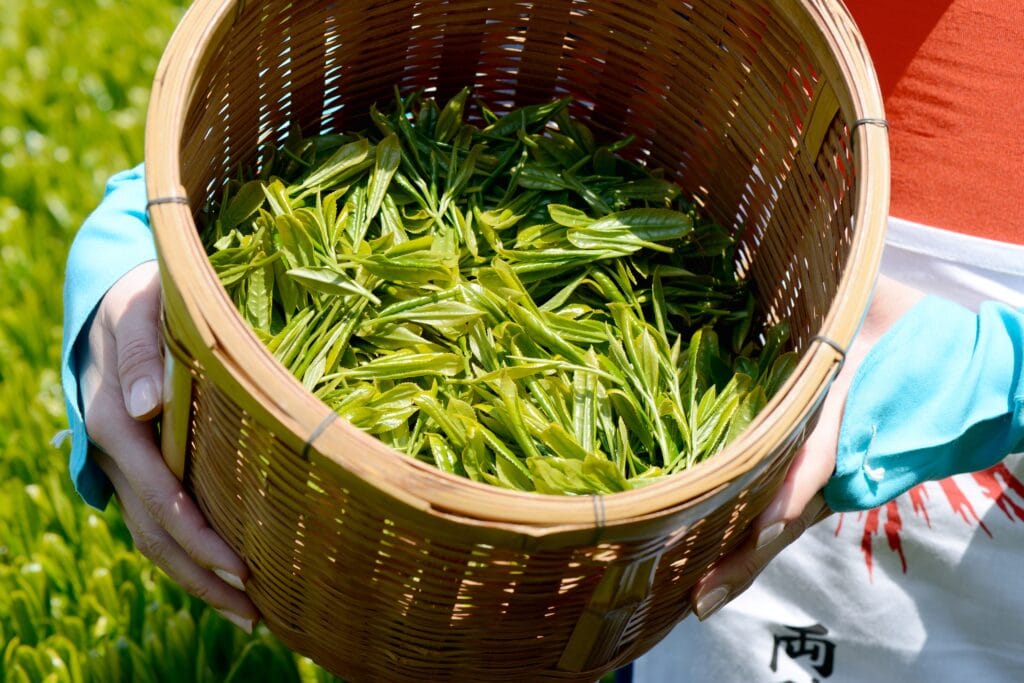 SLOW FOOD, STONE GROUND, AIRTIGHT
The fresh leaves are collected, dried and stone ground into an ultra-fine powder. The powder is then sealed in an airtight package to preserve flavour, nutrition and maximum freshness. The Matcha powder is selected and certified and guarantees an exquisite taste and a high quality product!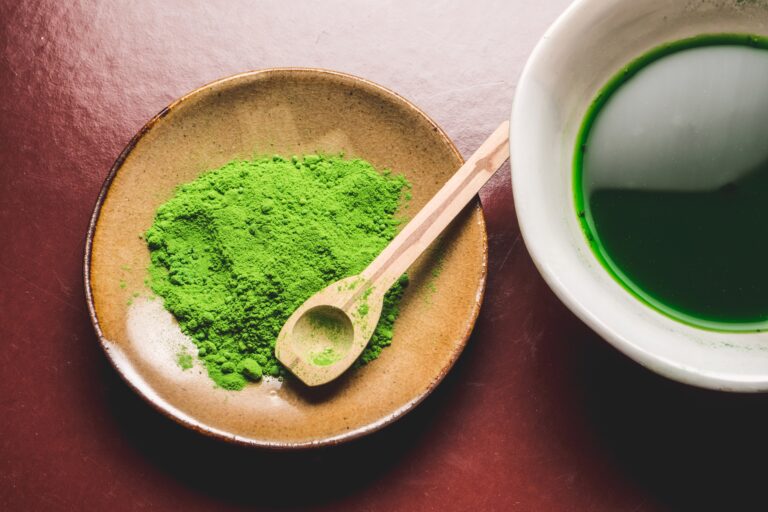 Be energized
Matcha is synonymous with energy and clarity, it is rich in beneficial effects for our health, counted among superfoods and functional foods. The ceremonial quality is the most valuable for taste and health properties. Best of all, the tea is so simple to prepare that you can easily incorporate it into your daily health routines whichever way you prefer.
Stay Focused
Green tea has been the cornerstone of traditional Japanese tea ceremonies for centuries and has become extremely popular throughout most of the world due to its many health benefits. In Matcha tea powder, the whole leaf is drunk, which is why it is very important that it is organic. When you drink it, you benefit from all the components of the tea leaf 100% natural health for body and soul.
ECOMIND
Always Organic
Superfood – Rawfood – Functional food
Be Energized. Stay Focused. Go Green.